Colors, fragances, flavours … You will be delighted by our subtle dishes and wines.Taking his inspiration from local produce and the passing seasons, our Chef Pascal Dezutter is an expert at harmonising his cuisine with the best wines.
Please note that without prior confirmed booking, we are not in a position to guarantee a table for you, for lunch or dinner.
Pascal Dezutter ? Chef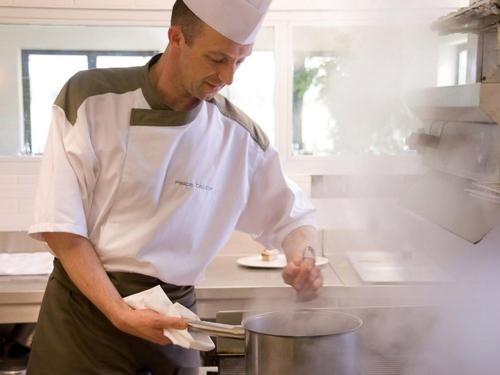 Having graduated from a Belgian catering school, Pascal Dezutter can be proud of his career that includes several starred restaurants in Belgium, the most famous being "Le Sanglier des Ardennes" in Durbuy. After a spell at the Lenôtre school, and having reached the semi-finals of the 2003 Prosper Montagné competition, he joined the team at Relais de Margaux with a view to getting to know the gastronomic gems of our region. Since than as Assistant Chef he has taken an active part in creating and shaping the cuisine both at the "Brasserie du Lac" and at the gastronomic restaurant "L'Ile Vincent", as well as for our seminars and banquets department.